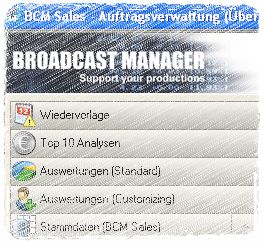 26.05.2008:
The BCM will be extended with a further important module for the sales section in the
third quarter 2008.
The new module is called
BCM SALES
and will be closely interrelated with the existing BCM software. BCM Sales not only uses the same master data like BCM (for example service pool, customer base etc.), it is also a consistent further development of the already existing technology. With BCM Sales you can easily create offers with the already existing BCM-service data or with new article for sale data. The customer- and other BCM-master data has been greatly expanded and/or supplemented.
For data interchange with superordinate systems for example Addison, SAP or Microsoft Dynamix AX etc., individual interfaces can be create (by arrangement) to supply these systems with BCM-invoice data. (sf)
20.05.2008: Dynamic, Energy and performances at the highest level – this is what german soccer league stands for. The SPORTCAST GmbH is responsible for the TV-basic signal for all matches in the 1st and 2nd Bundesliga.

In this process the BROADCAST MANAGER supports the Sportcast GmbH absolutely reliable in all aspects of production planning in the 2nd season (since 2006/2007). (sf)

21.02.2008: The production-call sheet was extended with a multiple call sheet-generator. Now, you can automatically summarize for a PDF-document any number of call sheets including cover sheets/table of content for a printout or to send the file per email. This is very comfortable for productions at the weekend, when one team is assigned for different productions. (sf)
28.01.2008: From BCM-Version 1.26g a integration is available for the visualization-software ModulCam of THRU-Soft/SAFE AREA. It is a high-performance software for the visualisation of different requirements, specially for the broadcast section. Camera plans, Line concepts, Organigrams or workflows can be easily created with ModulCam and imported to the Broadcast Manager.

Modulcam provides a great scope for customisation: for example integration of logos, graphics or objects, a FreeText-function and a method to add shapes and gradients. Additionally, several cameras (10 different camera types) can be used for complex productions and can be easily positioned anywhere on the plan. The user can create a legend for a compact and fast preparation of all information.

- Creation of camera- and microphone plans for sport productions
- variable placement of all elements
- Export image files into JPG, BMP and PNG formats
- Preview function
- Import own image files
- Variability in layout, font sizes and colour
- Implementing functions for precast symbols and objects
- freely definable legend
- including SPORT+ (contains seven additional fields (handball, boxing, ice hockey, polo, snooker,
american football, volleyball, and graphical object library with more than 900 elements)
- including FORMULAR1 (contains 18 Formularl1-racing tracks)
- including BOB/TOBBOGAN (contains 14 bob- and toboggan tracks)
- FreeText-function
- various expansion possibilities through a flexible program structure

Camera plans, Line concepts, Organigrams or workflows can be easily created with ModulCam and imported to the Broadcast Manager. ModulCam-projects or exported camera plans can be comfortable linked to BCM master data and used for the call sheet-printout.
ModulCam and the necessary Broadcast Manager - integration can be order from Broadcast Concept GmbH.